Selling a home can be both exciting and overwhelming. If you're planning to sell your home in Spokane, Washington, it's important to understand how preparing, marketing, and working with the right realtor can mean the difference between a quick sale or a longer time on market.
But don't despair! There are plenty of ways to get your home sale right, and I'll break it all down in this guide to selling a home in Spokane.
Ready to get started on your home selling journey? Reach out to me today for a home valuation.
Understanding Spokane Neighborhoods
Spokane is a vibrant city with diverse neighborhoods that cater to various preferences and lifestyles. Each neighborhood in Spokane has its own unique characteristics, offering a wide range of options for potential homeowners. When considering selling your home in Spokane, it's essential to understand the different neighborhoods to effectively target the right buyers.
Here are some ways popular Spokane-area neighborhoods could be marketed:
South Hill: Located on a scenic hillside, South Hill boasts stunning views and a mix of older, established homes and newer developments. The South Hill is a community-oriented neighborhood with plenty of things to do and delightful parks.

North Spokane: This area offers a suburban feel with a mix of single-family homes, both brand new construction and slightly older. It's known for its proximity to parks and outdoor recreational opportunities. North Spokane typically offers bigger lots and more space.

Spokane Valley: Situated just east of Spokane, the Spokane Valley provides a suburban setting with easy access to shopping centers, restaurants, and recreational activities. Spokane Valley offers city living in a suburban center and a variety of living options, from spacious homes to compact condos.
Working with a Realtor, like me, who knows the market and the neighborhoods that make up Spokane, can help you market your home effectively and attract the right buyers.
Finding the Perfect Spokane Realtor
When it comes to selling your home in Spokane, one of the key factors to ensure a fast sale and maximize your profits is finding the perfect Realtor. Working with a top Spokane real estate agent can make all the difference in the selling process.
By working with Behler Homes, you know you're getting the experience, knowledge, and network to market your home effectively and attract potential buyers. I understand the local market trends and pricing, helping you set the right sales price for your home. This ensures that you don't underprice or overprice your property, increasing the chances of a successful sale.
Additionally, a reputable Spokane realtor will have a track record of successful sales and satisfied clients. Their past performance demonstrates their skills in negotiating, marketing, and closing deals. By choosing a Realtor with a proven track record, you can have confidence in their ability to navigate the selling process and achieve the best possible outcome for you.
Don't just take my word for it! I've worked with hundreds of buyers and sellers, including Greg and Darcy L., who shared this:
"We felt we could trust her and her knowledge from day one. She was attentive, positive, caring, honest, and reliable. She makes herself available to answer all your questions. She has great attention to detail. She is very knowledgeable about homes, house quality, real estate, Spokane homes, and builders, as well as staying on top of the changing market and current trends. She is a very hard worker. Her marketing is top tier and her strategies will get your house sold or your dream house purchased. We couldn't be more pleased with our experience!"
Joel and Marjorie G. also had this to say about their experience working with me to sell their home:
"We are very pleased with the excellent service and support that Samara has provided to us she kept us informed on the status of prospective buyers and explained the various options involved."
Ready to contact a realtor to sell your Spokane home? Reach out to me and check out my listings here.
Preparing Your Home for Sale
You only have one chance to make a first impression, as the saying goes, and that's even more important when it comes to selling your house. Before putting your property on the market, it's essential to make sure it's in its best possible condition.
One easy way to make your home more appealing is staging. By arranging furniture and decor in an inviting way, you can help potential buyers envision themselves living in the space. Decluttering is also crucial as it allows your home's features to shine and creates a sense of openness. Consider removing personal items and excess furniture to create a neutral, inviting atmosphere.
In addition to staging and decluttering, it's important to address any necessary repairs. Fixing leaky faucets, patching up holes in the walls, or replacing broken tiles can greatly enhance the overall appeal of your home. Buyers are more likely to be attracted to a property that appears well-maintained and move-in ready.
Don't forget about curb appeal! The exterior of your home is the first thing potential buyers will see. Enhancing the curb appeal can make a lasting impression right from the start. Consider tidying up the landscaping, repainting the front door, and adding some colorful flowers or potted plants to create a welcoming entrance.
Lastly, highlight the best features of your home. Whether it's a stunning backyard, a spacious kitchen, or a cozy fireplace, make sure these standout features are showcased in your marketing materials and during showings. Professional photography can capture your home's best angles and attract more potential buyers.
By following these tips and working with an experienced realtor, you can ensure that your home is ready to capture the attention of potential buyers and sell for the best possible price. Ready to explore the process of a home sale? Reach out to me for more information!
Marketing Your Spokane Home
As a real estate agent here in Spokane, I've seen firsthand how vital it is to prepare and present a home in the best possible light when putting it on the market. My goal is to position my clients' properties to sell quickly and for top dollar by minimizing any "friction points" that could deter buyers.
The moment a for sale sign goes up, your home becomes a product. Buyers and agents will be scrutinizing it with a critical eye, just as they would any major purchase. We have to put ourselves in the mindset of these potential buyers and identify weaknesses that could negatively impact their desire to purchase the property. Things like outdated finishes, worn carpets, clutter, foul odors, peeling paint, overgrown landscaping – these are all examples of friction points that can stop a buyer in their tracks.
My process always starts with advising clients on any repairs and touch ups that would maximize their home's appeal. Sometimes small fixes like painting, replacing cabinet hardware or updating light fixtures can make a dramatic difference.
Staging is another key preparation – either full staging consultations and furniture rentals, or more targeted staging, where I'll advise clients on how to rearrange, declutter or upgrade certain rooms. Part of understanding buyer mindsets is recognizing which areas or features will make or break their interest.
I also provide professional photography and encourage serious decluttering to show the home in the best possible light online and in-person. Taking these proactive steps allows buyers and agents to envision the property's full potential – and gets more buyers to turn that vision into reality.
Navigating the Selling Process
Selling a home can be an exciting yet complex process. To ensure a smooth and successful transaction, it's essential to navigate each step with care. From the initial listing appointment to the day of closing, understanding the selling process is important.
The journey begins with a listing appointment and a price evaluation. During this stage, a real estate agent will provide a listing consultation and discuss your selling goals. They will collaborate with you to determine an appropriate listing price based on factors such as location, condition, and recent sales in the area.
Once you've established the right price, it's time to create a compelling marketing plan. These materials, including professional photography, eye-catching print and digital marketing, and engaging descriptions, will showcase your home's best features and attract potential buyers. Open houses and virtual tours may also be scheduled to allow interested parties to explore your property firsthand.
As inquiries and showings start coming in, it's crucial to handle offers strategically. Your agent will help you evaluate each offer, consider factors like financing contingencies and closing dates, and negotiate on your behalf to secure the best terms possible.
Want to work with a professional, knowledgeable Washington State realtor who knows the market? Reach out to me to discuss your home selling journey in Spokane County!
After accepting an offer, the inspection period commences. This stage allows the buyer to conduct a thorough examination of the property to identify any potential issues. Depending on the inspection results, negotiations for repair costs may arise, and the right agent will guide you through this process.
If a purchase offer contains a financing contingency, it is important that the listing agent properly appraises the home's value to set an appropriate asking price and avoid any low appraisals that could jeopardize or delay the sale. A knowledgeable local real estate agent, like me, has extensive recent data on comparable home sales and neighborhood market trends that enables them to accurately price your home relative to its true market value. This helps attract qualified buyers more likely to secure financing and prevents renegotiations that would be necessary if an appraisal comes in lower than the agreed purchase price.
Finally, the closing process marks the conclusion of the transaction. This involves completing necessary paperwork, transferring ownership, and exchanging funds. Your real estate agent will work closely with you and the buyer's representative to ensure a seamless and successful closing.
Have questions about the selling process? Check out my in-depth Spokane home buying and selling FAQs here.
By understanding and navigating each step of the selling process, you can confidently sell your home in the Spokane, Washington area.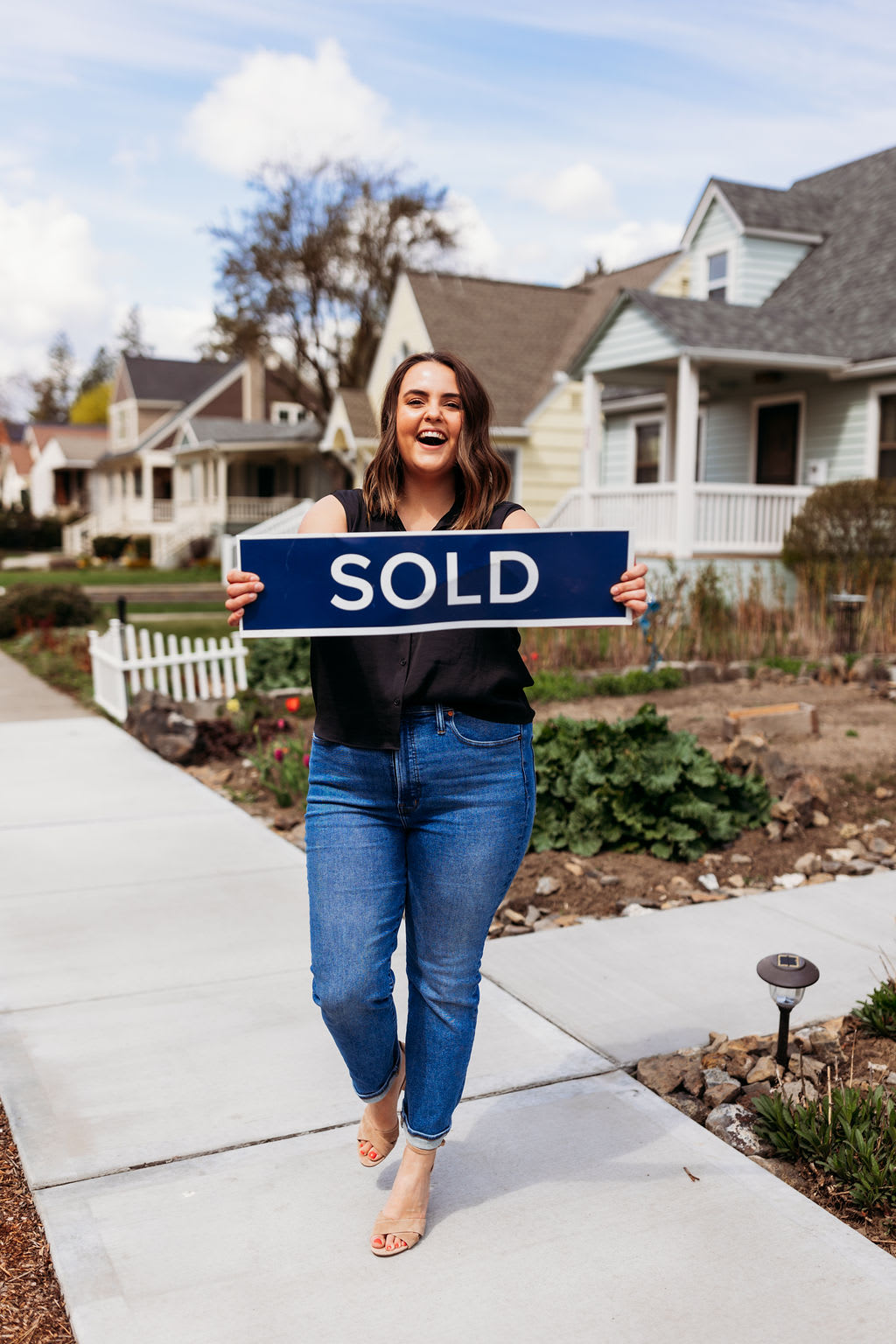 Legal and Financial Considerations
Legal and financial factors can have a significant impact on the overall selling process and should not be overlooked. One of the key financial considerations for sellers is the seller closing costs.
These costs include expenses such as title insurance, attorney fees, escrow fees, and transfer taxes. It's important to budget for these costs and understand how they may affect your net proceeds from the sale.
Repair costs are another financial consideration to be aware of. Depending on the inspection findings, sellers may be asked to address any necessary repairs or provide credits to the buyer to cover these expenses. It's crucial to factor in these potential costs when determining your desired sales price and negotiating with potential buyers.
In addition to these financial considerations, sellers should also be mindful of any legal obligations they have throughout the selling process. This includes adhering to local, state, and federal laws regarding disclosures, contracts, and any necessary permits.
Working with the right Spokane-based real estate agent can make this whole process go much smoother. Reach out to me today if you're interested in discussing your potential home sale.
Resources and Additional Information
If you're curious about the buying and selling process in Washington state, but aren't quite ready to work with a real estate agent yet, there are resources available to help you navigate the process.
For information about the Spokane area, the Spokane Association of Realtors offers valuable resources on its website. From maps on the area to understanding local market trends, their articles and guides can help you make informed decisions when selling your home in Spokane.
Have questions about the home buying or selling process? You can contact me anytime! Even if you're not sure about selling your home yet, I can answer questions you have about the process, the general Spokane region, or any real estate related questions.
Selling Your Home in the Spokane Area
Selling a home in Spokane, Washington, can be a smooth and successful process with the right resources and guidance. By thoroughly researching the local market trends and understanding the selling process, you can make informed decisions and maximize your sales price.
Finding a reputable real estate agent in Spokane is crucial, as they can provide valuable expertise and assistance throughout the selling journey. Make sure to thoroughly read through any testimonials or reviews when looking for the right real estate agent. You can also reach out to me if you have questions about the selling process.
Additionally, it's important to be aware of legal and financial considerations when selling your home in Spokane. Understanding seller closing costs, inspection costs, and repair costs upfront can help you avoid any surprises later on.
At Behler Homes, I understand the unique challenges and opportunities of the Spokane real estate market. With my expertise, personalized service, and commitment to achieving excellent results, I can help you sell your home in Spokane with ease. So why wait? Reach out to me today, and let me guide you through the process of selling your home in Spokane, Washington.